December 8th, 2010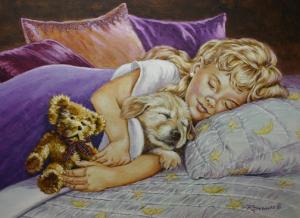 I have resolved the dilemma of what to do with the bedding and cushions by using a colour scheme that is primarily purple with golden yellow accents. The purple is a restful, nocturnal colour and the gold is on the opposite side of the colour wheel, making it the complimentary in this case. It ties in nicely with the colour of the girl's hair, the puppy and the teddy bear, too.

I have created some dramatic, low lighting on the cushion in the background and deepened the dark brown behind them. There is now a distinct background, middle ground and foreground in the picture. This creates a feeling of depth in the picture and helps build a strong, interesting composition.

Detail and depth of colour are added throughout the painting, and finally, highlights are added at the very last as the finishing touch.