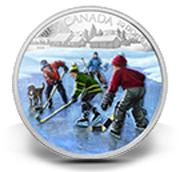 On November 5th., the Royal Canadian Mint released a new twenty dollar silver coin in Ottawa, the nation's capital. The new coin will appeal not only to coin collectors but to most Canadians in general. The design features a lively and nostalgic image of boys playing hockey on a farm pond. This will surely bring back fond childhood memories for people who grew up in an era before computers, when winter recreation was usually out-of-doors.

The coin is the creation of Kingston, Ontario artist Richard De Wolfe, who is well known for his images of nature, nostalgia and country life. A product manager at the Mint discovered artwork by Mr. De Wolfe that features pond hockey and immediately sought him out for the commission.

"I felt honoured to be chosen by the Mint to design a coin featuring such a wonderful subject", Richard said. "I couldn't wait to create a painting commemorating something so very Canadian."

The new coin is available at www.themint.ca.